My aunt and uncle made a delicious grilled salmon and wild rice dinner not too long ago when we were all together and I have been dreaming of that meal ever since. Simple, flavorful and healthy. Decided to re-create it in a new way, searing the salmon and making a pan sauce because I can't get enough sauce. I used frozen wild-caught Alaska salmon fillets and that worked well. Didn't take a ton of pictures of the process, so all I have are the finished meal components. For the salmon, I tried this recipe for the first time and really liked it: Salmon with White Wine Mustard Sauce. Only made a couple changes including more wine (how can you go wrong with that) and using a non-dairy replacement (Smart Balance) for the butter. Imagine it would be heavenly using real butter. A cooking oil that works well for high-heat cooking would probably hold up better for searing than what I used. Macadamia nut oil could be a good choice for this. With changes, here's what the recipe looks like:
1⁄4 teaspoon salt, divided
1⁄8 teaspoon pepper
4 (6 ounce) salmon fillets (about 1 inch thick)
1 tablespoon cooking oil or butter substitute of your choice, divided
3 tablespoons shallots, minced
1 cup dry white wine
3⁄4 cup chicken broth
1/2 tablespoon Dijon mustard
3⁄4 teaspoon cornstarch
1 teaspoon dried thyme
1 teaspoon honey
Sprinkle 1/8 teaspoon salt and pepper over fish. Melt 1 1/2 teaspoons of oil in a large nonstick skillet over medium-high heat. Add fish and cook 7 minutes on each side or until fish flakes easily when tested with a fork. Remove from skillet and keep warm.
Melt 1 1/2 teaspoons oil in skillet over medium heat. Add the shallots, and saute for 1 minute or until tender. Add wine, and cook for 1 minute. Combine 1/8 teaspoon salt, broth, mustards, thyme and cornstarch, and stir with a whisk. Add to skillet, and bring to a boil. Reduce heat and simmer until reduced to 3/4 cup (about 1 minute). Spoon sauce over fish.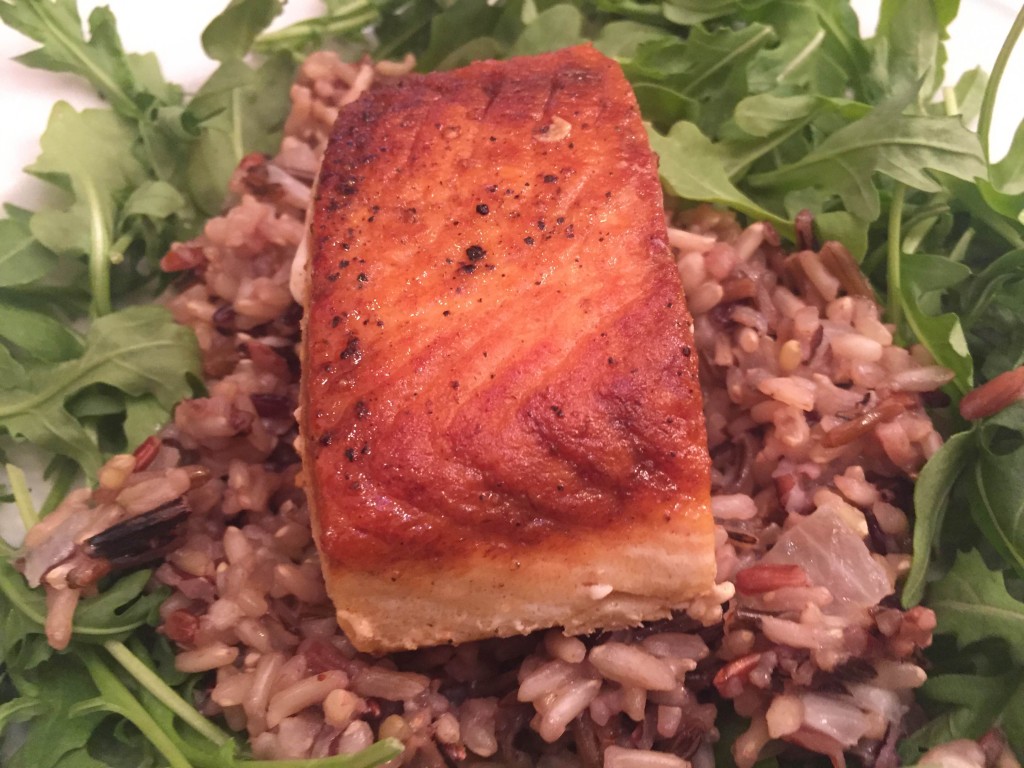 This is the salmon after searing it, after 7 minutes on one side and about 5 on the other. The doneness turned out fine to us.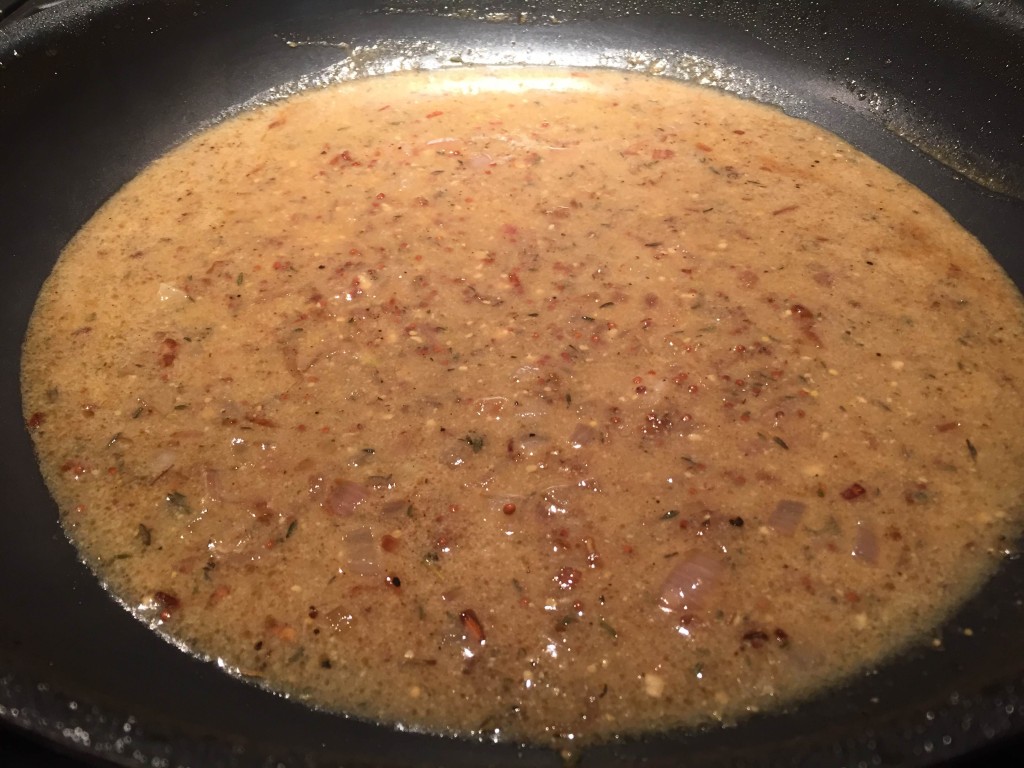 When I followed the original recipe exactly, the pan sauce turned out really concentrated and I didn't love the flavor. I adapted the recipe by adding a total of 1 cup of dry white wine (instead of 2 tablespoons) and bringing it to a boil. Adding a teaspoon of honey also helped mellow the flavor without adding too much sweetness.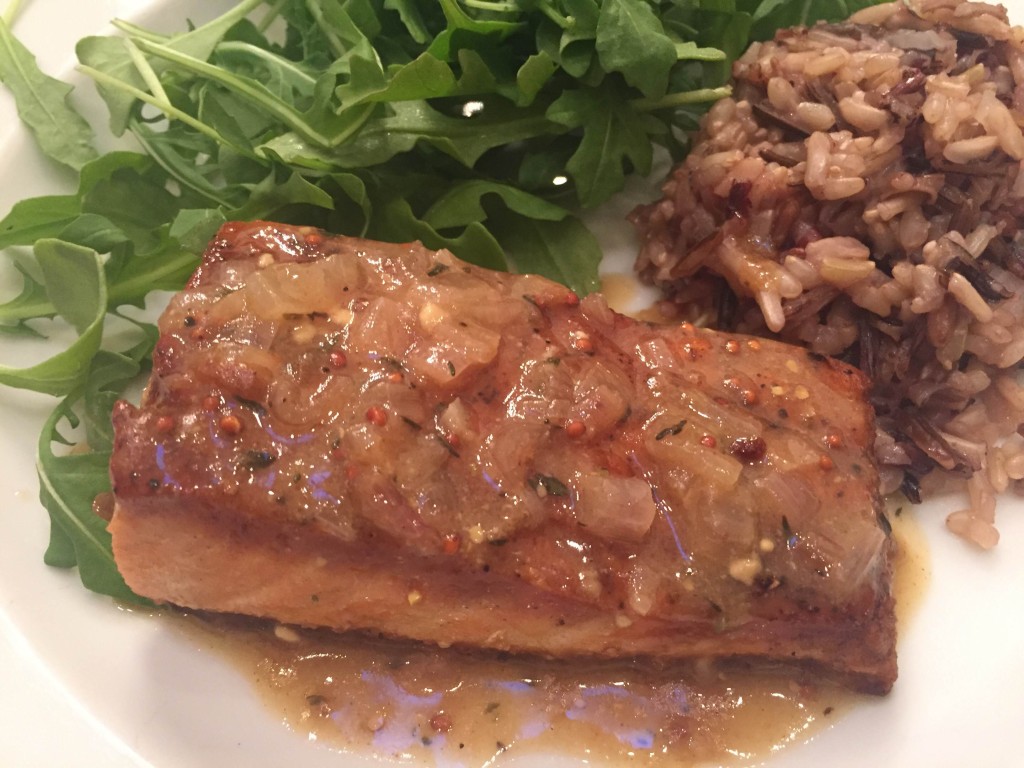 For the wild rice, I followed the package instructions and added onions and garlic for extra flavor as my aunt suggested! This was about a 1 hour process. During the cooking time, I sauteed half an onion and 2 cloves of garlic and mixed those in when the rice was done. The batch of rice was large, using two cups of dry rice because I wanted leftovers. I served the salmon and rice in a nest of plain baby arugula. The pan sauce acted as a dressing when it was all together. If I had thought of it, would have also had lemons to go along with this.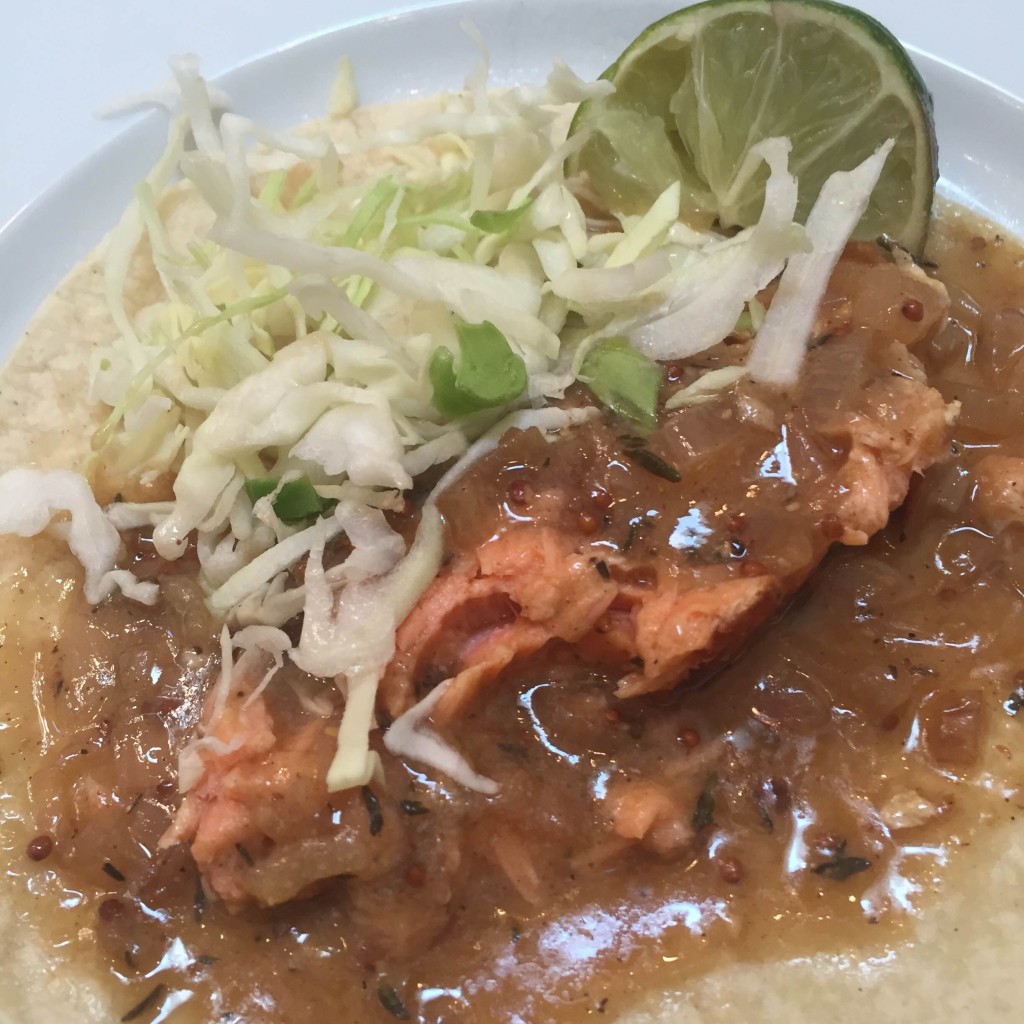 Loved the salmon tacos I tried at a farmer's market in Colorado a couple weeks ago, so that's what I did with the leftovers the next day. Amazing with angel hair cabbage and lime.