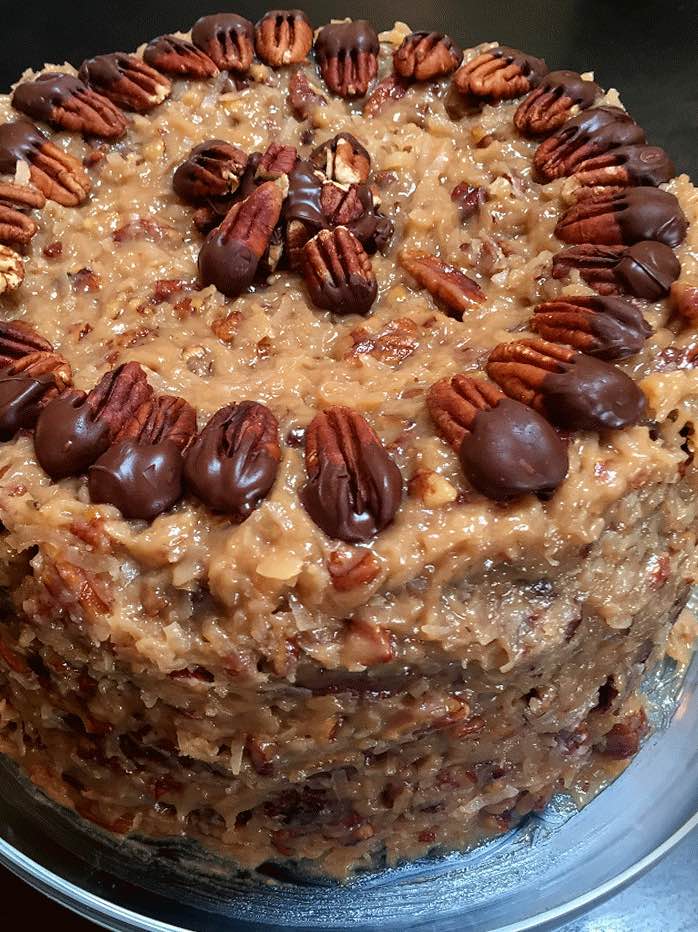 More of a recipe review than a full blog post this time. It was my first time to attempt a German Chocolate Cake and I quickly realized that you end up using every baking apparatus in your kitchen. I used both a stand mixer and a hand mixer. The process also has many steps from adding ingredients alternately to separating eggs and adding the beaten whites at the end, toasting pecans, cooking the frosting and cooling it completely before frosting the cake, etc., etc. Also notable, this cake requires 10 eggs, separated: four for the cake and six for the icing (yolks only). Allocate plenty of uninterrupted time so you can give this recipe your full attention.
If you don't like over-the-top sweetness, this three layer, extra-chocolately, super-rich cake is not for you. I've found so many great cake recipes at Southern Living, and this is no exception:
The main difference from the Baker's Chocolate box recipe for German Chocolate Cake noted by most reviewers in the comments on this recipe was that it doubles the amount of chocolate. Some comments said the cake fell apart, but that didn't happen for me. The layers were firm enough to stand up with the icing between the layers and on top.
Other reviewers said you need to make 1.5 times the amount of icing as in this recipe. I found the original recipe to make plenty of icing to go between each layer, on top, and cover the sides. I refrigerated the frosted cake overnight and took it out a few hours before serving to get it back to room temperature. I think it was still a bit cool when I cut it, which probably helped it stay together during cutting.
I copied the Southern Living photo and went with chocolate-dipped pecan halves for decoration. Just add some pecan halves to the cookie sheet when you're roasting the chopped pecans for the icing. Melt some chocolate chips in the microwave, dip the pecan halves in, and put them on a sheet of wax paper to firm up (putting them in the fridge helps). I also made one big chocolate and pecan cluster for the center of the cake.
So, one of the pitfalls of not being able to eat wheat or cow's milk products is not being able to taste some of the foods I make for others. In this case, it smelled heavenly, the texture looked right, and that's about all I had to go on. People enjoyed the cake, but it drives me crazy to make something for others without being able to tell if it's any good. After making it through all the steps without disaster and having the cake hold up for serving, I'll call it a successful first try.