Spaghetti Squash is a big staple in our household as a noodle substitute and all around delicious substance. It has the texture of all dente pasta with a slightly sweet flavor. I make it at least every two weeks if not more often. It's great because the squash tend to be big and that leads to left-overs. If you're trying to eat healthfully, it's so helpful to have leftovers on hand that you can make into another dinner or lunch the next day, saving time and having something to fall back on that's not takeout. Cost-effective, too. This spaghetti squash recipe and the meat sauce both result in great leftovers.
So, the squash. Preparation is quick, cooking takes a little longer…
Roasted Spaghetti Squash:
Preheat the oven to 400 degrees. Wash the outside of the squash and dry it for easier handling. Slice in half lengthwise. Scrape out seeds with a spoon. Fill 9×13 baking dish with 1″ water and place squash halves cut-side-up in pan. Brush with olive oil and sprinkle with salt and pepper. Roast for 50 minutes, or until edges start to brown and squash is soft enough that strands separate easily when scraped with a fork. Let cool until you can pick up the squash. Scrape out insides of squash with tines of a fork, creating strands of "spaghetti."
Now the fun part… what to do with the squash. My two quick go-to preparations are either with tomato-based meat sauce or with pesto. I'll go with the meat sauce first. Both of these use packaged products for speed in prepping a weeknight dinner, but would be even better with totally homemade tomato sauce or pesto.
Meat Sauce:
1 tbsp. olive oil
1/2 onion, chopped
2 cloves garlic, minced
1 lb. ground beef
1 cup tomato pasta sauce of your choice
grated pecorino romano
fresh basil
Sauté onions and garlic in olive oil in large skillet. Remove from pan and set aside. Add ground beef to skillet, season with salt and pepper or seasoned salt, and brown until almost done. Add back in onions and garlic, and add tomato sauce. Reduce heat to a simmer.
Top warm bowls of spaghetti squash with meat sauce, grated Pecorino Romano, and fresh basil, sliced or torn.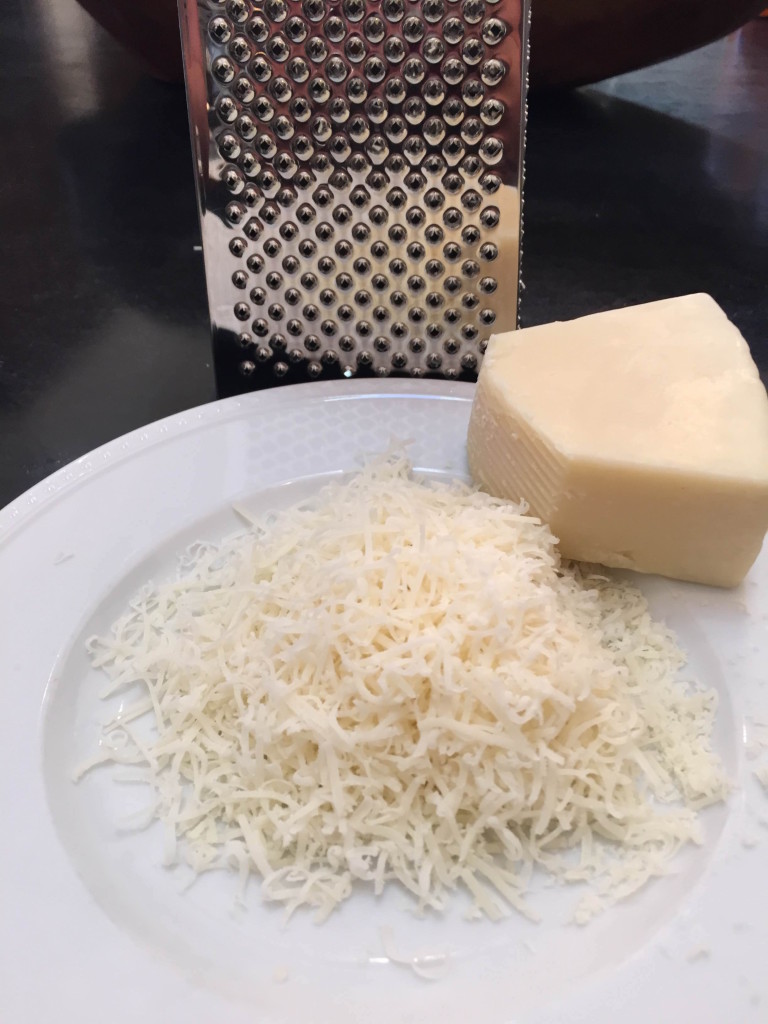 Spaghetti Squash with Pesto
Now for the pesto version. I first had this at a gastropub called Two Cents in Key West, and my mind was blown by how good it was. It was served with the vegetarian entree of fried eggplant. Amazing, and I still remember how it tasted. So, I started making spaghetti squash with pesto all the time after that. I noticed that it was cut up, to maybe 1/2 inch strands, versus the long ones straight from the squash, so I've reproduced that here. So, just add 1-2 tablespoons of pesto per serving (I chose a gluten-free, dairy-free prepared version), and an equal amount of grated Pecorino Romano. Mix together and serve immediately, topped with more cheese and sliced or torn basil.