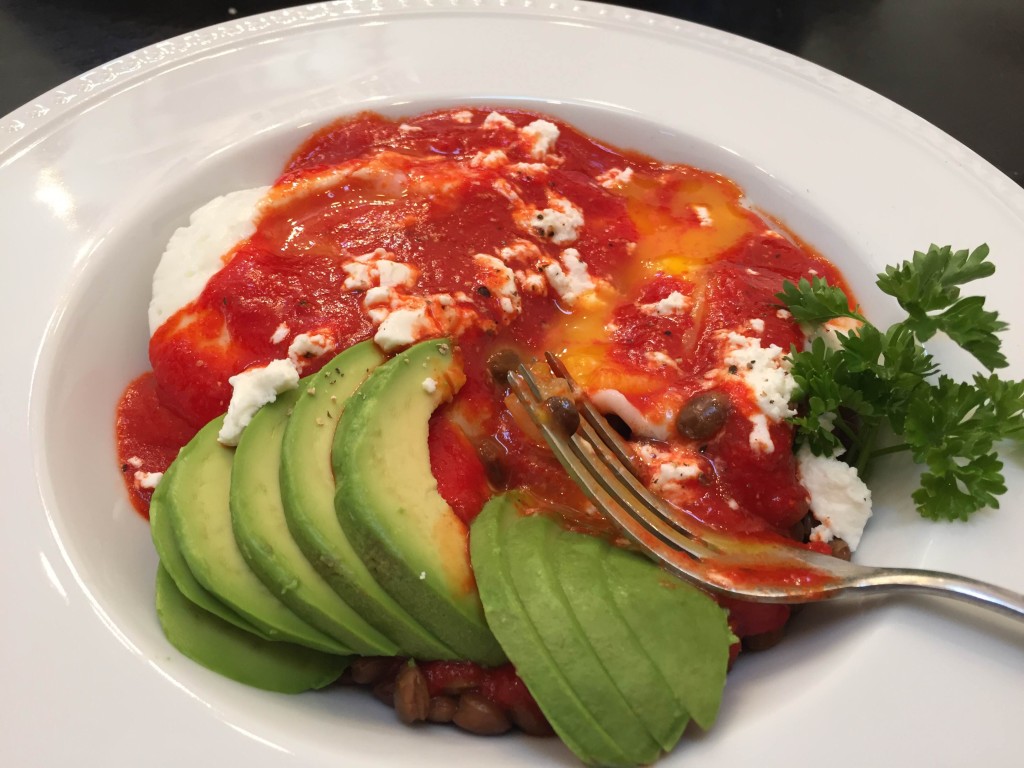 Red chile that's just hot enough, tangy goat cheese, creamy avocados, runny poached eggs and lentils for protein… what more could you want in a breakfast? Added bonus, it's lower carb and low sugar.
So, making the red chile sauce homemade in bulk is a family tradition in the fall when the red chile is ready here in Southern New Mexico. That is quite a procedure that will require a separate post, but I will include a few photos to give you an idea of the process. For now, I will leave up to you where to procure your red chile sauce… grocery store or homemade if it's available. If buying at the store, look for red chile or red enchilada sauce that doesn't have too many ingredients. The stuff we make contains only red chile, garlic and dried oregano. When using the homemade sauce as a base, we mix in a can of tomato sauce per quart bag of red chile sauce and some salt before making enchiladas, or these delicious breakfast bowls.
Red Chile and Egg Breakfast Bowls (Makes 4 servings)
1/2 cup chopped onions
2 cloves garlic minced
1 tablespoon chopped parsley, plus more for garnish
2 tablespoons olive oil
2 14 oz. cans lentils, drained and rinsed
8 eggs
2 cups red chile sauce
1 avocado sliced into thin strips or wedges
4 oz. goat cheese, crumbled
Saute onions and garlic in olive oil until just starting to brown. Add lentils and parsley, mix, and continue to heat through. Heat red chile sauce to a simmer in a sauce pan. Poach 8 eggs to put on top of lentils. I like doing them 2 at a time in the microwave (1.5 minutes) using this technique: Microwave Poached Eggs. To assemble breakfast bowls, put lentils in the bottom of each bowl. Carefully add two poached eggs. Pour approximately 1/2 cup red chile sauce (or whatever amount you want) over eggs. Top with sliced avocados, crumbled goat cheese, salt and pepper and parsley for garnish.
Those runny eggs coat everything and make this so decadent. Lentils are a great layer because they act as a carrier for all the saucy goodness without adding a strong taste of their own. Preparing a large batch of the lentils also makes it easy to recreate this breakfast quickly on future days with the leftovers. All you have to do is heat the sauce, poach the eggs and add toppings. This is a very filling meal that would actually work for any time of day. And you will get an endorphin kick if your chile is hot enough!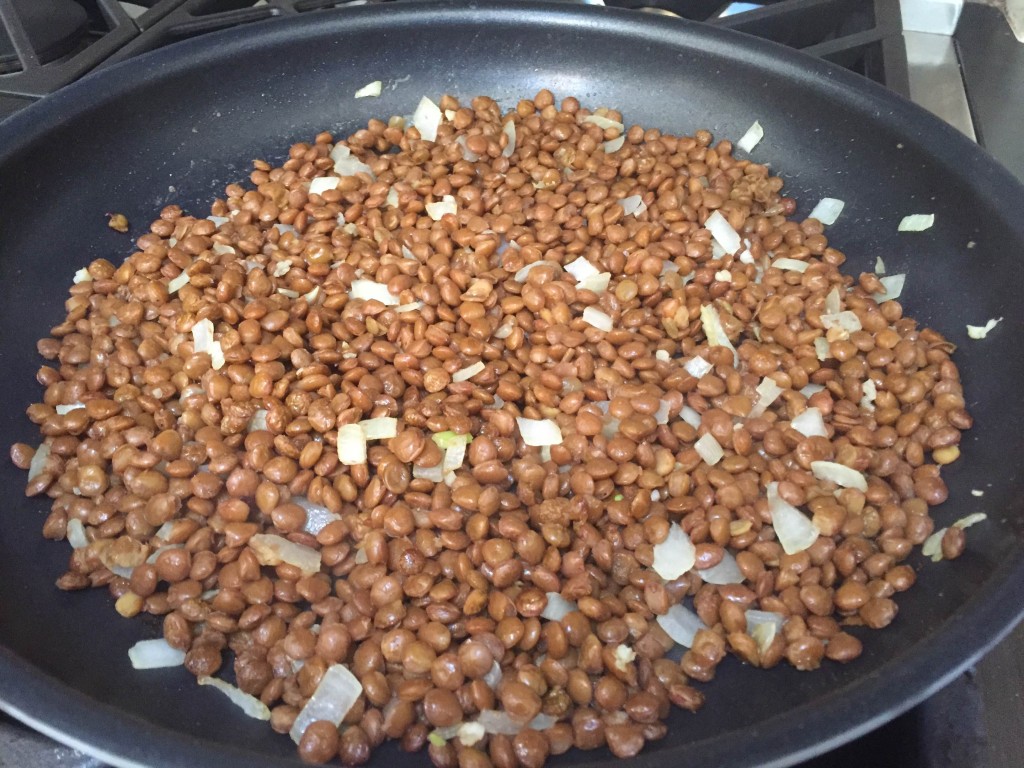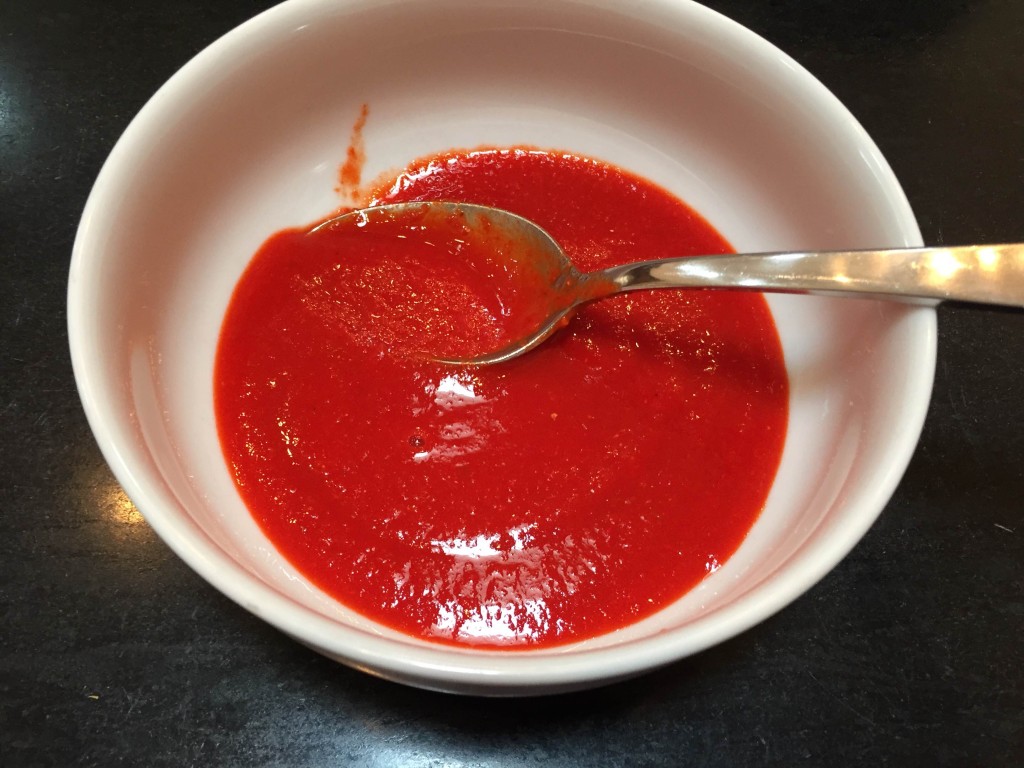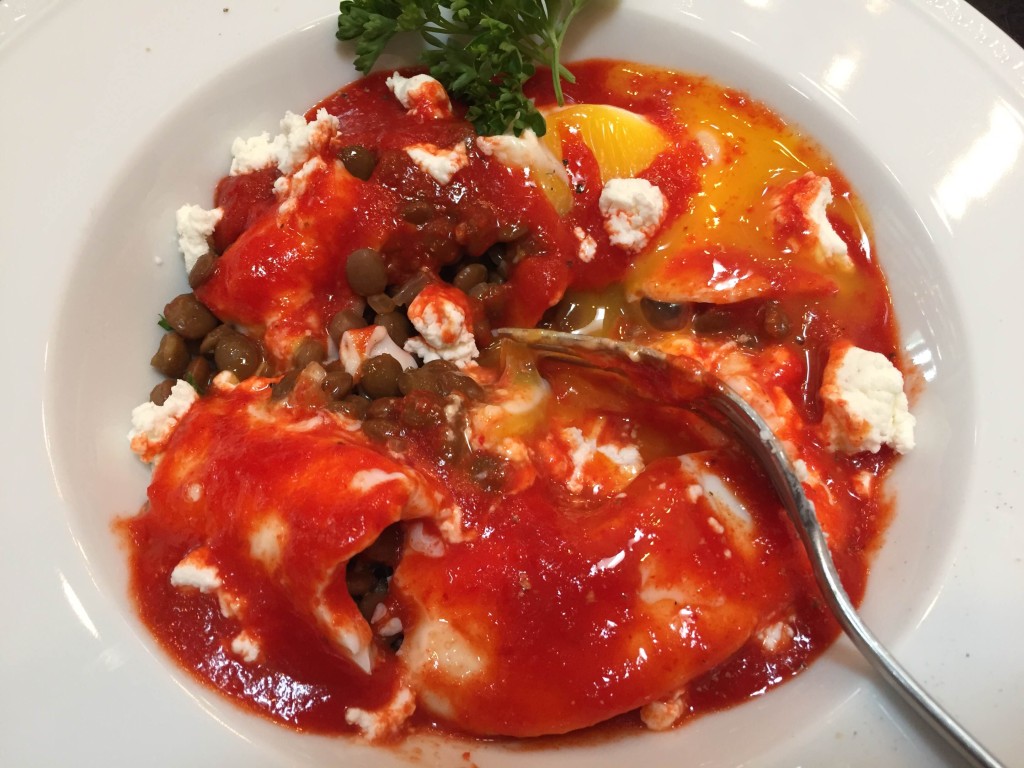 One of these days I will get to posting either a full or an abbreviated version of the red chile sauce we make. Til then, here's what parts of that assembly-line process look like.