This is the second recipe I've tried for Blueberry Baked Oatmeal. There was nothing wrong with the first one, but this one was amazing: Blueberry Baked Oatmeal. The recipe gives you options and I went with the one that was both gluten-free and dairy-free. Great recipe. You get crispy edges, tender middle, not TOO sweet, but sweet enough to be a treat. It brings to mind bread pudding made of oatmeal with nice solid edges. Simple to make, and when it cools, you can cut it into bar shapes for a grab-and-go-breakfast or to freeze. With adaptations, here's what the recipe looked like:
2 2/3 cups old-fashioned oats, 1 cup pulsed in food processor
2 teaspoons cinnamon
1 teaspoon baking powder
½ teaspoon regular table salt
¼ teaspoon nutmeg
1¾ cups almond milk
⅓ cup honey
2 large eggs
3 tablespoons melted coconut oil, reserve one tablespoon for topping
2 teaspoons vanilla
12½ cups frozen blueberries
2 teaspoons turbinado sugar
Preheat the oven to 375 degrees. Grease a 9″x9″ baking dish with coconut oil.
In a medium mixing bowl, combine the oats, cinnamon, baking powder, salt and nutmeg. Set aside a couple tablespoons of the dry mixture to sprinkle on top.
In a smaller mixing bowl, combine the almond milk, honey, egg, 2 tablespoons coconut oil, and vanilla. Whisk until blended.
Put the berries in the baking dish (no need to defrost frozen fruit first). Cover the fruit with the dry oat mixture, then pour the wet ingredients over the oats. Make sure the wet mixture saturates all the oats. It's ok to stir if needed at this point to ensure the mixture is evenly wet with berries throughout.
Scatter the reserved oat mixture on top. Drizzle the remaining 1 tablespoon coconut oil over the oats. Sprinkle some turbinado sugar on top for extra crunch.
Bake for 42 to 45 minutes, until the top is nice and golden. Remove from the oven and let it cool for a few minutes. This can be served from the pan or cut into bars for an on-the-go breakfast or snack. The bars also freeze well. Put parchment paper in between and store in a freezer bag.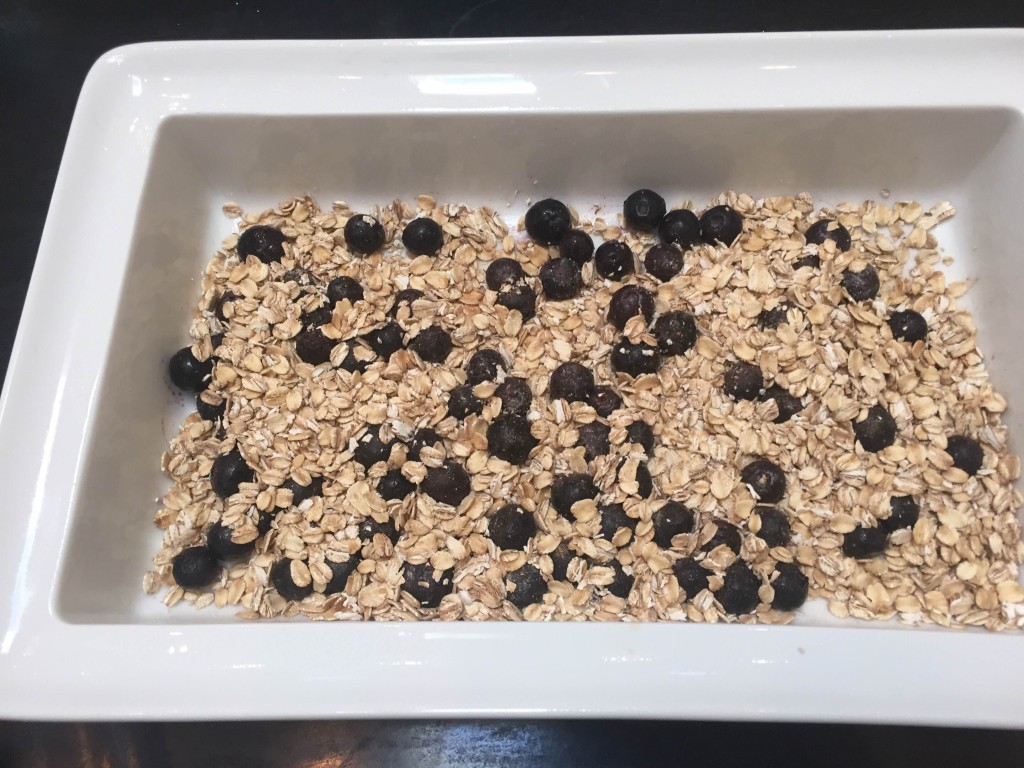 This dish gets constructed in layers: blueberries, then the dry mixture, then the liquids, then more blueberries.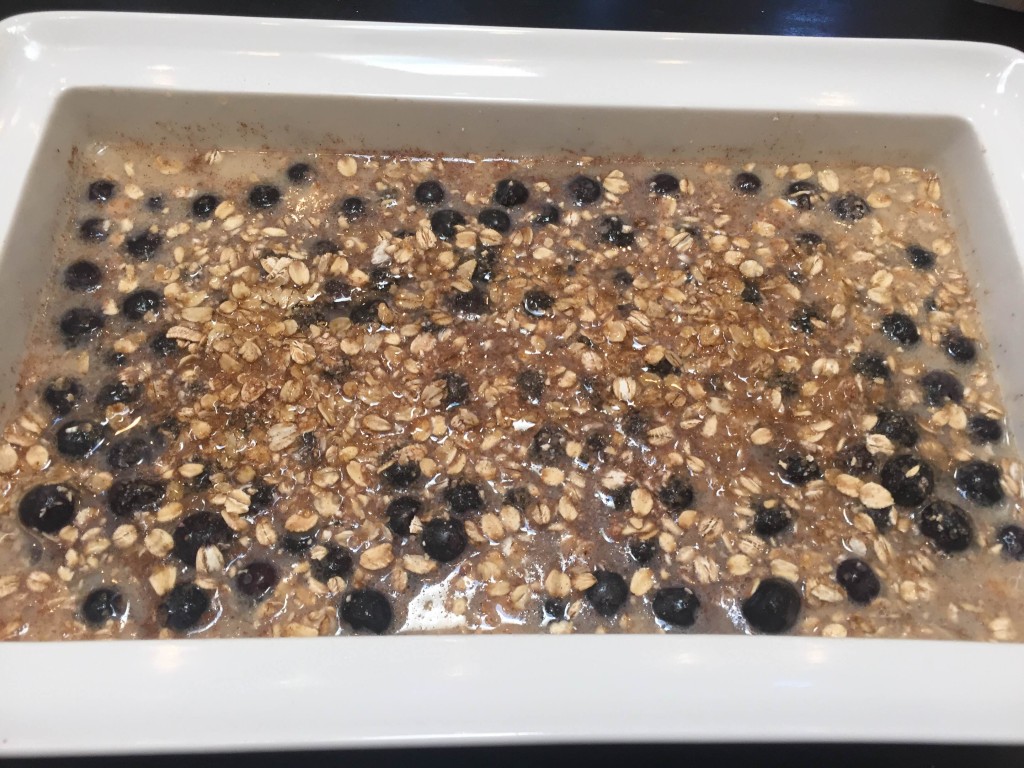 After adding the liquid, the mix seemed too wet to me, but it turned out fine. I reserved a bit of the dry mixture to sprinkle on top, with additional coconut oil on top to help it brown, and then a dusting of turbinado sugar.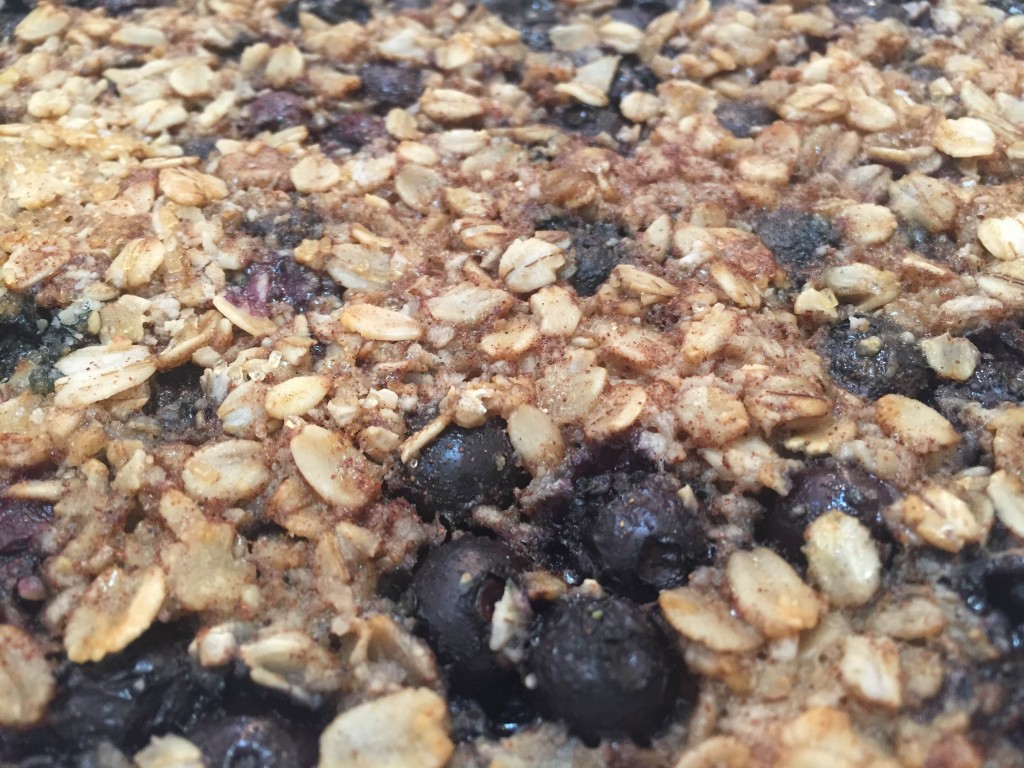 It came out of the oven after 42 minutes with a nice golden-brown crust and tender middle. Letting it cool a bit before cutting helps it not disintegrate. I'm really happy with this recipe as a breakfast for a crowd (great with coffee) or for snacks or breakfast to go.