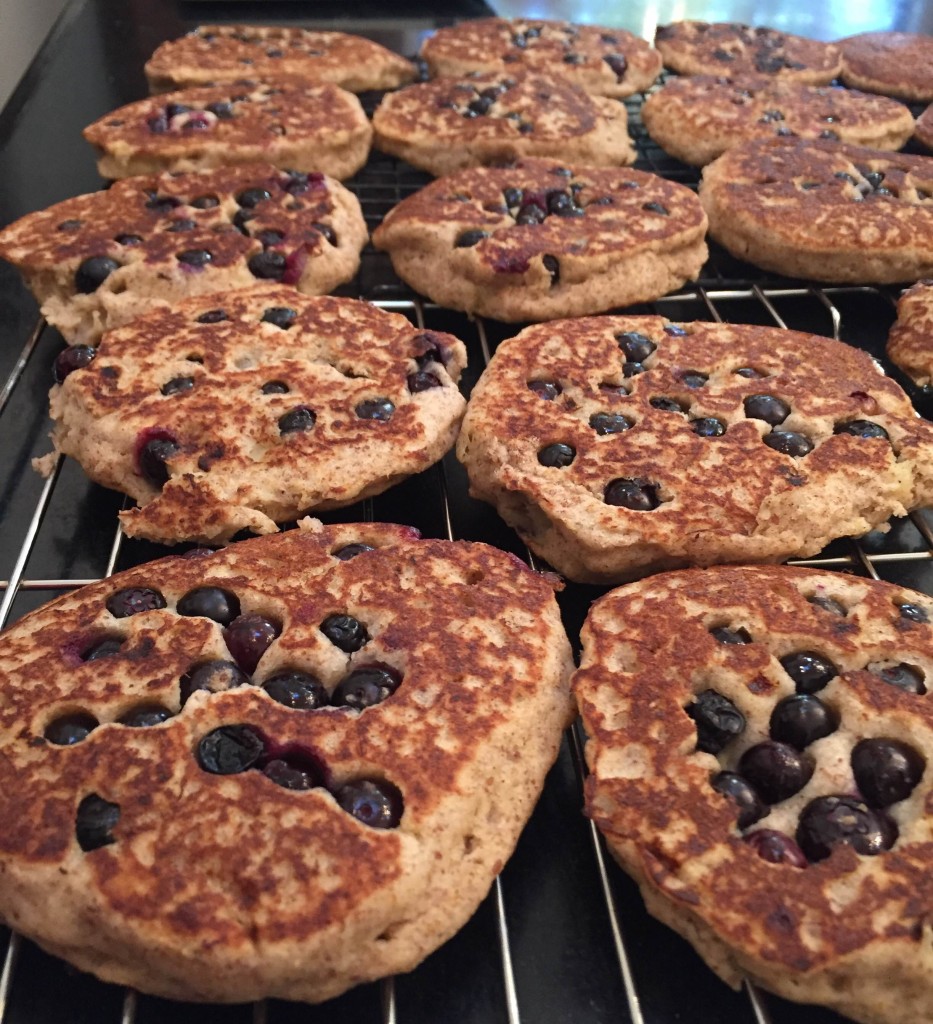 This is a great way to sneak some fiber into kid-friendly food. I used our ever-reliable Gluten Free Banana Pancakes as a base, using almond milk to make the recipe dairy-free. In this variation, I substituted 1/4 cup flax meal for 1/4 cup of the rice flour called for in the original recipe. This is a great base for any fruit, nuts, or other add-ins you can think of. We tried some with gluten-free dairy-free mini chocolate chips and some with raisins. Both were great, but blueberry was my favorite. Here's the recipe with the added variations:
1-1/4 cup rice flour or gluten-free baking flour
1/4 cup flax meal
1/2 tsp cinnamon
¼ tsp salt
1 tsp baking powder
2 eggs
¾ cup almond milk
1 tbsp coconut oil (or oil of choice)
1 tsp vanilla extract
1 tbsp maple syrup
2 ripe bananas, mashed
1 cup fresh blueberries (or the add-in of your choice: raisins, nuts, gf/df chocolate chips…)
In a mixing bowl, mash the bananas with a fork until mostly smooth. Add the eggs, milk, oil, maple syrup and vanilla. Mix until combined. In a separate bowl, combine the rice flour, flax meal, salt, baking powder, and cinnamon. Stir to combine. Incorporate the flour mixture into the banana/egg mixture and stir just until combined. Heat a non-stick skillet to medium heat. Form pancakes on the skillet (a little less than 1/4 cup each). Add blueberries or the add-in of your choice to each pancake and gently press them into the pancakes with the back of a spoon. Allow them to cook a couple of minutes, until the sides begin to set, before flipping to the other side. Cook another couple of minutes until pancakes are cooked all the way through. Serve with toppings of your choice such as real maple syrup! These freeze well, too.
This is the flax meal added into the recipe (I made a double batch here). It adds lots of fiber but doesn't noticeably change the taste or texture of the pancakes.
So many things you can add to customize your pancakes…