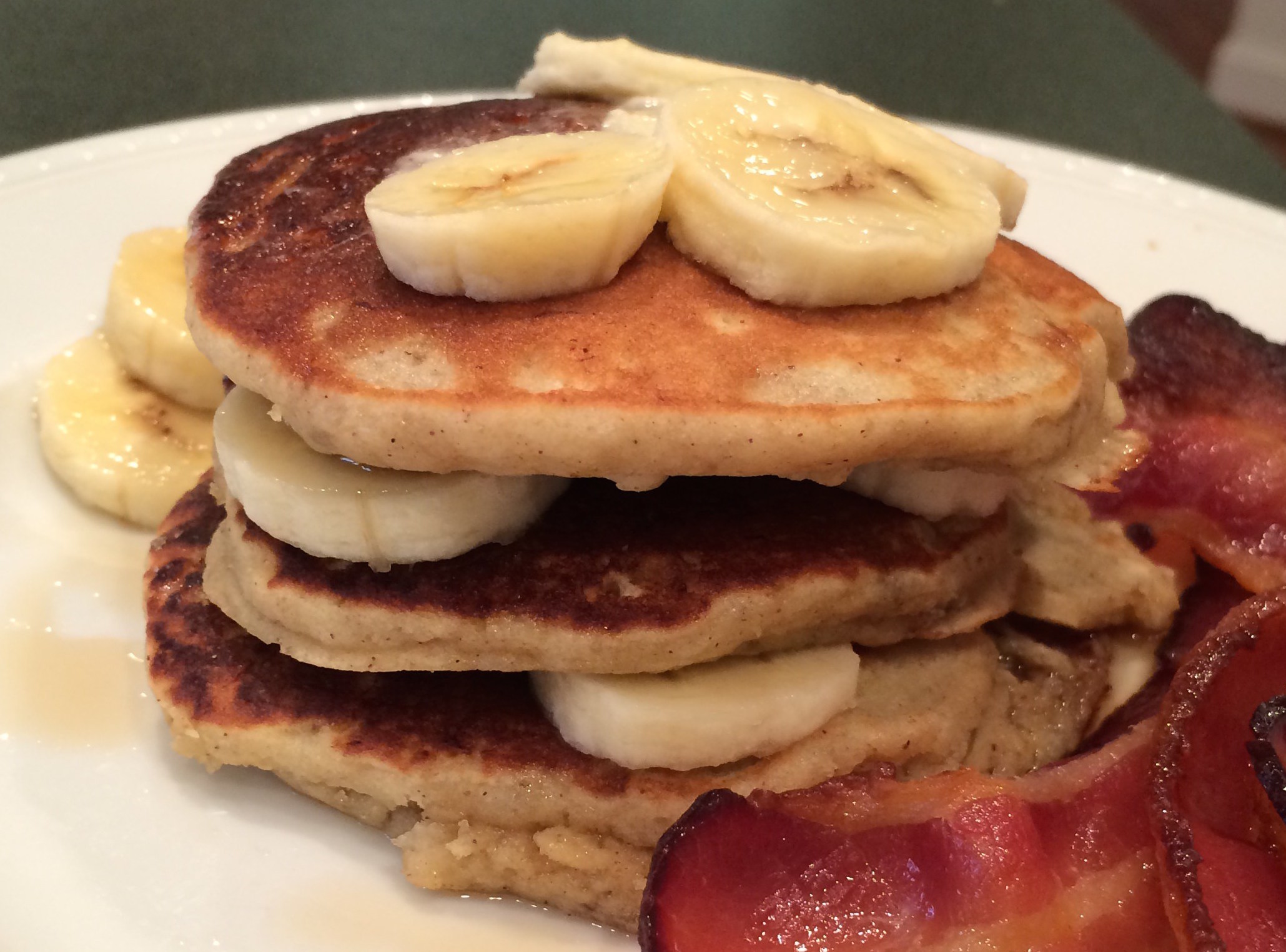 I started making this recipe when our son was having trouble digesting wheat and dairy, but we've kept on making it because it's so good. I frequently make a double batch and freeze a bunch of them just to have a good snack/breakfast/meal handy for our toddler. Here's where I found the recipe: Gluten Free Brown Rice Flour Banana Pancakes. The Roasted Root's photos are way more enticing than mine!
I don't change much about this recipe, just a couple of minor tweaks. I substitute maple syrup for the agave nectar, use  1/2 or a whole teaspoon of cinnamon in lieu of cardamom just because I didn't have any, and we typically use almond milk. Rice milk also works. Here's the whole recipe with the modifications:
1-1/2 cup rice flour or gluten-free baking flour
1/2 tsp cinnamon
¼ tsp salt
1 tsp baking powder
2 eggs
¾ cup almond milk
1 tbl coconut oil (or oil of choice)
1 tsp vanilla extract
1 tbl maple syrup
2 ripe bananas, mashed
In a mixing bowl, mash the bananas with a fork until mostly smooth. Add the eggs, milk, oil, maple syrup and vanilla. Mix until combined. In a separate bowl, combine the flour, salt, baking powder, and cinnamon. Stir to combine. Incorporate the flour mixture into the banana/egg mixture and stir just until combined. Heat a skillet to medium heat. Form pancakes on the skillet (a little less than 1/4 cup each) and allow them to cook a couple of minutes, until the sides begin to set up, before flipping to the other side. Cook another couple of minutes until pancakes are cooked all the way through. These are delicious with butter, good maple syrup, and sliced bananas.
For a great variation on this recipe, try Banana Blueberry Flax Pancakes!